Description
Chalk Board 3.5L Slow Cooker
---
The Russell Hobbs Chalk Board Slow Cooker in stylish Matt Black is a cookpot with a twist. As well as providing all the advanced and clever features that make Russell Hobbs Slow Cookers indispensable, the Chalk Board housing means you can write on it too. Whether you want to leave little notes for the family telling them what's for dinner or you want to keep track of a recipe – this creative concept will get everyone talking.
Perfect for stews, roasts, chillis, soups and more
If you're cooking for up to four people, this family-sized, 3.5 litre cooker really can make your life easier. Not only can you come home to a tasty, nutritious pre-prepared meal, but you don't have the hassle and mess that comes with using additional pans, grills or the oven. One compact pot does the lot.
Considered to be an easier, healthier, more economical way to cook
Slow cooked meat can make mealtimes tastier. The gentle cooking action reduces damage to vitamins and retains more of your food's nutrients and flavours. It makes the most of your budget too because long, slow cooking can tenderise cheaper, tougher cuts of meat, and uses about a quarter of the power of the small ring on the average hob.
---
Chalkboard casing and chalk included
Matt black powder finish allows you to write on the sides of the pot using chalk. Leave messages for the family, tell them what's cooking or keep a note of your ingredients or timings if you're following a recipe. Plus, it comes complete with its own chalk so you can start making notes right away!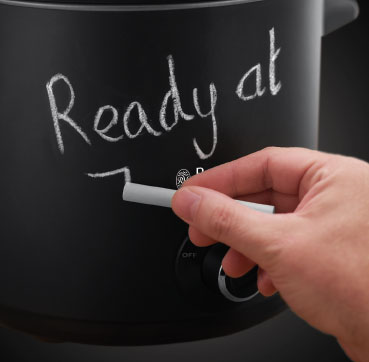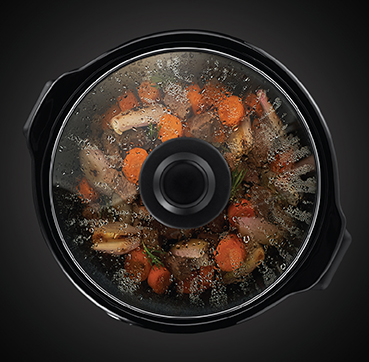 Enjoy delicious home cooked meals, ready when you are
It's great for people who want to enjoy nourishing meals but simply don't have the time, energy or inclination to prepare ingredients at the end of a busy day. It's also ideal if you want to leave heart-warming family favourites for others to enjoy when you're out and about. Simply prepare the ingredients earlier in the day, set the timer and everything will be ready when you're ready to eat.
Removable pot and lid, plus 3 simple settings
It has a dishwasher safe removable pot and lid for easy cleaning after every use. At with 3 easy to use heat settings, it couldn't be easier to use! The perfect, fuss-free way to have a delicious and nutricious family dinner on the table at the end of a busy day.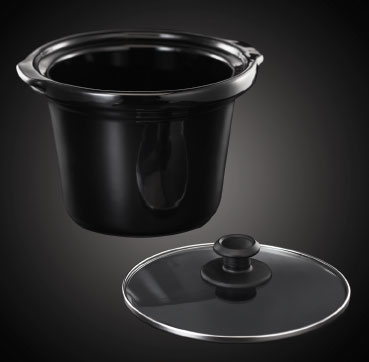 3.5L capacity slow cooker
Ideal family size slow cooker, cooks up to 4 portions of food
Matt Black Chalk powder coating
2 pieces of chalk that can be used to write on the body
3 heat settings, high, low, warm
Glass lid to view food whilst cooking
Removable black ceramic pot & lid for easy cleaning
Power indicator light
Non slip feet

Ceramic Pot

3.5L Capacity

Chalkboard Finish

3 Heat Settings